COVID-19 connected absences will continue to occur for some time to come. Even once vaccinations have been offered to the whole of the working age population, employers must remain vigilant – some people will always remain susceptible, and the impact of COVID variants is unpredictable.
As well as monitoring the COVID risk and immunisation status of staff, they must ensure that their absence processes can identify and then respond to COVID-related absences in an appropriate way.
Managers must also be guided to engage with employees in an informed way, and to take the right actions at the right time – such as quickly connecting with employee COVID testing procedures.  They may need to act promptly in response to a positive Lateral Flow Test result which will initiate an absence period for confirmatory testing and possible sickness.
Empactis Absence Manager is part of our comprehensive cloud-based employee health management system which has been adapted to make it easy for businesses to meet evolving COVID absence challenges.
  Integrates with risk, health and case management processes within the Empactis system
Employee absence and related data securely hosted in the Microsoft Azure cloud
Powerful insights and reporting thanks to integrated Insights module
Our Organisation core draws on the essentials of your own hierarchy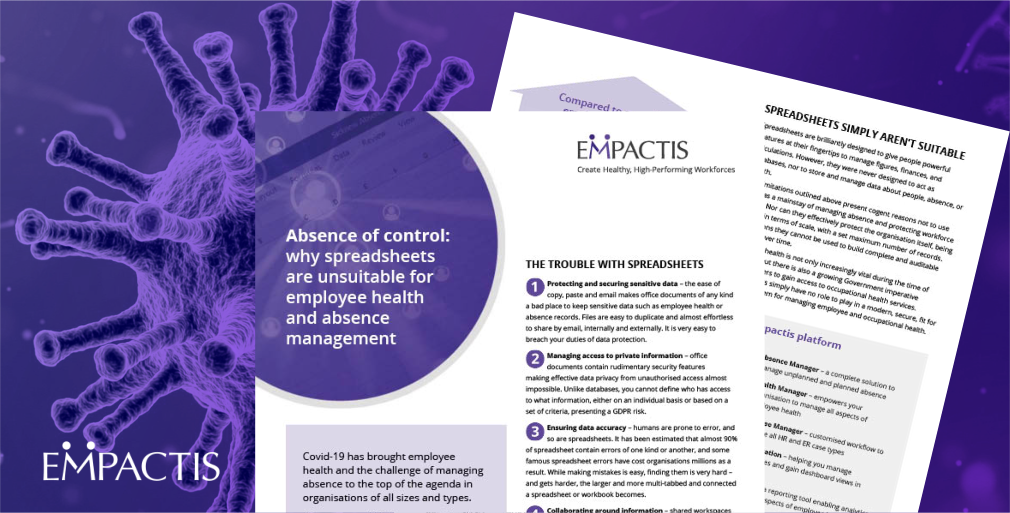 Now is not the time to rely on ad hoc or 'just good enough' systems and spreadsheets for absence management.
Empactis can transform your approach – talk to us and discover how.