Empactis offers a proven 'out of the box' solution for COVID-19 and flu vaccination management at scale to give NHS Trusts greater visibility and control over their staff vaccination programmes.
Vaccination of healthcare workers is a strategic priority. More than 35,000 staff across England are already using Empactis Health Manager, part of the Empactis Employee Health Management System, to interact with their Trust's COVID-19 and flu staff vaccination programme.
Empactis has been involved from the start of the NHS COVID-19 staff vaccinations programme, helping to address the practical issues of managing offers, eligibility, bookings, consents, and vaccination records swiftly and at scale.
It is ever-clearer that COVID-19 vaccination management will become a cyclical process in a similar way to flu vaccination. Systems for managing it must be robust and repeatable. It is increasingly important that health records are stored in a common employee health record.
Complete COVID-19 vaccination management for NHS Trusts
End-to-end capability: Supports making an offer to each employee, establishing their health-related eligibility, collecting consent, enabling an employee to make a self-service booking, recalling at the right time and capturing all the information securely into the employee's health record.
Supporting staff: Offers a guided and simple on-line process for members of staff. After receiving a vaccination offer, employees are directed to an intuitive health eligibility questionnaire and consent form. If no contra-indicators emerge, they can proceed to the next step and make a self-service booking.
Supporting clinics: Administrators or vaccinators can access and validate health information and consent for each staff member as they arrive for their vaccination. They can easily record the key data and it is all immediately and securely integrated into the individual's employee health record, eliminating any need for subsequent data entry.
Supporting managers: Managers can access high level information about the progress and status of their teams' immunisations, as well as receive automated updates about individual staff members whenever engagement is needed.
Supporting HR and OH administrators: The system enables effortless exporting and reporting on the status of staff immunisations in real time, both for local reporting and to meet national data requirements.
Supporting IT requirements: Empactis draws on staff data and hierarchies within ESR, enabling rapid deployment and fast time to activation. Data is stored securely in the Microsoft Azure cloud, so the system can scale to support any healthcare workforce.
Supporting organisations: Managing vaccination data in a single end-to-end system speeds up the process of gathering information and proceeding through key stages at pace. It removes the costs and risks of paper systems and eliminates the inevitable errors of manual data entry of vaccination information. It provides a robust and complete audit trail for every employee vaccination and enables automatic red-flags at appropriate stages, enabling managers to engage effectively.
Empactis COVID-19 Vaccination Management can be deployed as a standalone solution. However, broader use of the system is enabling NHS Trusts to connect data and workflows for even greater business and reporting benefit. Many of our customers use Empactis for other aspects of COVID-19 process management, including COVID-19 Testing Management, COVID-19 and overall Absence Management, COVID-19 risk assessments, and HR Case Management to enable a joined-up view of connected employee health issues.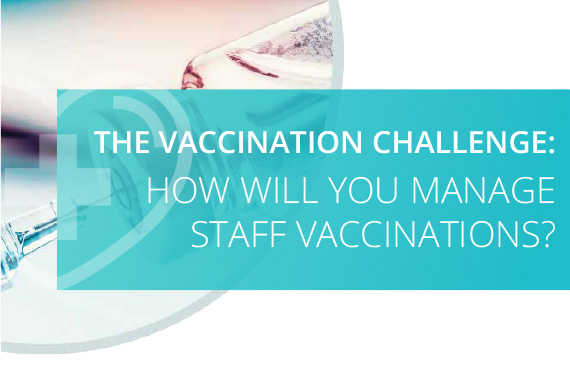 Improve efficiency, enhance effectiveness, reduce risks and lay a foundation for future employee health with Empactis Health Manager